Gel nail reconstruction for damaged/fungal nails
If a nail has been permanently damaged, or is being treated for fungal infection, this is an excellent treatment for instant visual improvement. It is especially useful for instantly improving nails in preparation for a holiday or other special occasion.
At the New Milton Foot Clinic we use a self-levelling gel which bonds to your old nail, and appears and behaves exactly as a healthy nail, with flexibility but strength.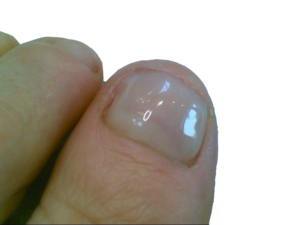 The gel nail will grow out with the nail plate

The gel contains slow release antifungal agents, piroctone olamine, and micro-silver.

The finished nail is non-porous so neither water nor air can penetrate it, which helps prevent further spread of the fungus.

Once treatment is complete, the nail can be cut, filed and painted as if it is your real nail.

The nail will last approximately 6 weeks, depending on the underlying nail condition.

Although not a cure for the fungus, it is certainly an instant fix. The nail can still be treated with topical or oral antifungal tablets.

This treatment is also excellent for damaged nails while they are growing out.